Custom Menus
Made To Order
Every restaurant, coffee shop, bar, and other food service business knows it's not just the quality of your food or diversity of your drinks that matter, but also your presentation.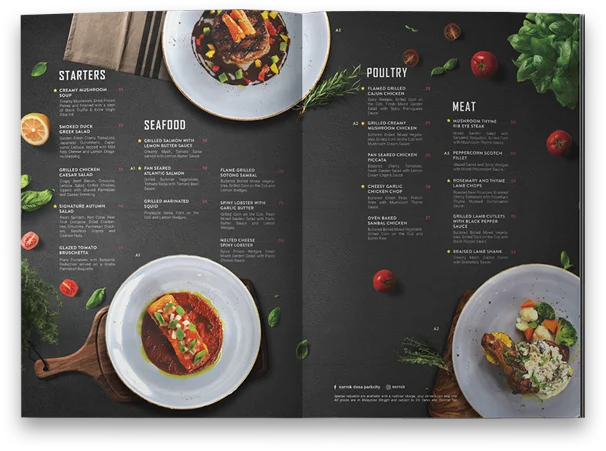 Your customers' first visual impression of what you offer is your menu. You take care in cooking, prepping, and serving your food, so your menu needs to convey the flavor of what you offer effectively. If your Restaurant Menu Design looks good, you look good, and people will likely do business with you. If they don't like the look of what they see, they're likely to go check out someone else's menu.
You need to entice customers right away; that's where we come in.
As a Restaurant Marketing Agency, we design eye-catching, attention-getting menus that reflect your image and fit your unique food business or brand. Whether you're a restaurant, bar, café, food truck, kiosk, coffee shop, or other service company, we can custom design the right menu package for you.
We're a US company, so you'll never have to worry about strange spellings or the typos common with overseas designers and typical online menu makers. We don't use generic templates either; we use experienced graphic designers. Everything we do for you, we do for you alone.
We
offer

several different

menu

format

options

so that you can order the one right for you.
You can even combine your various options or add a custom-designed logo for a small amount more. Order your menu now.

Add Electronic PDF Version
$75 more (25% savings)

Add a Custom Logo
$75 (25% savings)

Add Expedited Delivery
(within 48 hours) for $50