Easily
Talk to Customers

Without Uttering a Word
According to recent surveys, 89% of consumers say they prefer to communicate with businesses via text, with 64% of people claiming to have a more positive view of businesses that communicate with customers via text. Based on a 2016 business insider report, it's predicted that 80% of businesses will be using chatbots by 2022.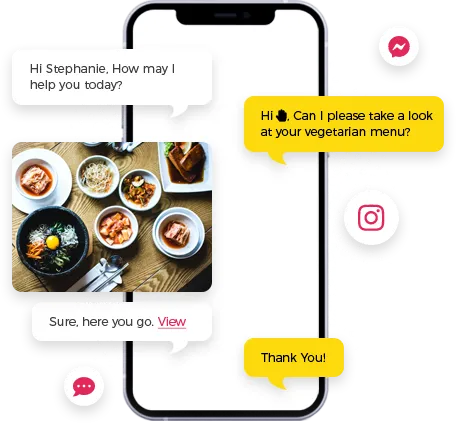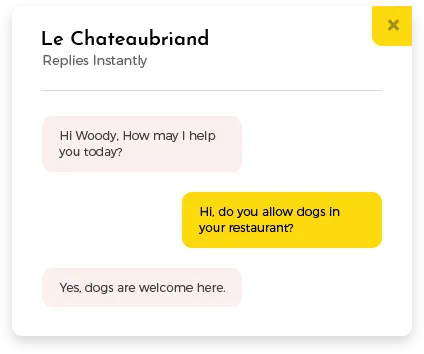 Are you a restaurant or foodservice business trying to stay competitive? You're probably going to want a chatbot—whether you're a small, independently owned business, a Local Restaurant With Multiple Locations, or a larger regional or national chain.
We create personalized chatbots that can answer your guests' questions in real-time, using information about your restaurant that's already available online. Our chatbots are individually tailored for your restaurant, allowing you to interact with customers and instantly answer their questions on your restaurant's website , Facebook Page, and via text.
Why Do You
Need A Chatbot

For Your Restaurant?
By answering questions automatically and routing guests to real humans only when necessary, chatbots can help you improve customer service, driving more people to your physical businesses. It can also free up time for your staff to spend improving guests' actual in-restaurant experience.
Book Reservations
Food Recommendations
Ordering Food
Follow Up On Feedback
Enhancing Customer Service
Instant Response
Deliver Discounts & Offers to Customers
Strengthen Your Brand
Book Reservations
Booking Reservations
Chatbots can be utilized to help customers book a table at your restaurant. This can be done through a chatbot on your Restaurant Website, where a customer may have looked you up and browsed your menu before deciding to book. Customers can also book through integrated messenger chatbots. For example, chatbots can be integrated with Facebook Messenger so customers can book a table directly from Facebook.
Food Recommendations
Ordering Food
Follow Up On Feedback
Enhancing Customer Service
Instant Response
Deliver Discounts & Offers to Customers
Strengthen Your Brand